In the 1980s, there were several ways for a computer user to go online....

the internet
In 1982, the term Internet was applied to the global system that linked university, government and commercial computer networks. This system grew from a single network in 1969 to a group of interconnected networks in 1977. By 1983, there were 30 networks and several different levels of connection between them. The Internet offered e-mail, file downloading, databases, mailing lists, chat rooms, instant messaging and games.

bulletin board systems
A bulletin board system (BBS) is a dial-up message board for PC users. The first BBS was invented in 1978 and was run by a computer hobbyist from his personal computer. By the mid 1980s, additional features (e-mail, games, chat rooms, file downloading) were also offered. In 1984, some BBSs began to charge a yearly fee in exchange for more features and adult content. Also in 1984, hundreds of BBSs became linked via the FIDONET network. During the 1980s, the first chat abbreviations and emoticons were used here.

USENET
Launched in 1980, USENET was a dial-up communication system for Unix computer users. Participants shared news articles and discussion boards, which were categorized into newsgroups. One particular newsgroup was dedicated to file downloading. In 1986, it became possible for non-Unix users to post on USENET without special software.

dial-up databases
Some databases and information services could be accessed simply by dialing directly to the host computer. The majority of users were businesses and researchers who accessed credit reports, financial data, technical information and library support services. A smaller number of computer hobbyists accessed news, shopping and general research sites.

online services
PC users had networks of their own in the form of dial-up online services like Compuserve, The Source, Genie, Delphi, UUNET and Prodigy. These services provided members with news, online encyclopedias, games, e-mail, forums and chat rooms on a subscription basis.

worlds apart
Each of the online systems listed above operated independently of the others. Access to the Internet was limited to the few users who were connected to a network, and the other systems were not part of the Internet. There were instances, however, when one system provided access to the others. BBS users could post on USENET in 1985, and some online services and BBSs began to offer Internet access in 1989.


-----
Going Online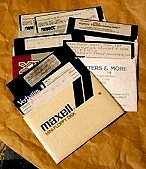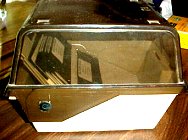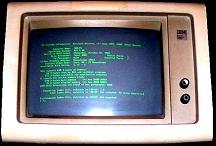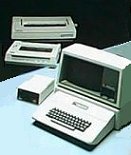 Apple, 1982




Internet History Timeline 1962-1992
Usenet FAQ
First Use Of The Smiley Face :-)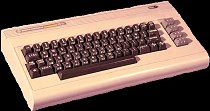 Commodore 64 keyboard
"cyberspace"
In 1984, novelist William Gibson coined the term cyberspace to describe the new virtual world that computers were creating for us.

domain names
At first, each host on the Internet was accessed by a number (the IP address). By 1984, there were 1,000 hosts, which made this system impractical. The Domain Name System was developed, and this was the origin of .com, .net, .edu and so on. In 1985, Symbolics.com registered the first domain name. At this point, having a dot-com address was still free.

explosive growth
In 1984, less than 2,000 computers had access to the Internet. Between 1985 and 1987, this number increased to 30,000. It jumped again to 160,000 when Internet access was offered to casual computer users in 1989.

internet access for all
In 1987, the UUNET online service provided Unix PC users with access to some Internet features. The Internet was made available to all computer hobbyists in 1989 when The World provided them with the first commercial dial-up Internet access. Some online services and BBSs also offered Internet access in 1989.

a world-wide web
In 1989, Tim Berners-Lee first proposed the idea of a World Wide Web. This feature would operate over the Internet, and would use a universal language (html) and standard software programs (browsers) to provide access to digital documents hosted by special computers (web servers). Rather than link entire computers together, the whole procedure would be simplified because only the documents would be linked. In 1991, this plan became a reality, and the Web that we all know and love was officially here!