Wireless

In the 1910s, there were two types of wireless communication: the Marconi system (Morse code) and audio broadcasting (sounds and human speech). Morse code wireless was known as wireless telegraphy or radio-telegraphy, and audio wireless was known as wireless telephony or radio-telephony.


========================================
========================================

Marconi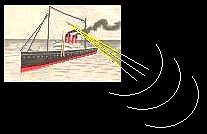 wireless at sea
Guglielmo Marconi developed his system for transmitting Morse code without wires in 1896. At first, it was used primarily by the maritime industry. During the 1900s, many ships added "Marconi rooms" containing equipment and operators leased out by the Marconi Company.

The Radio Act Of 1910 required the installation of wireless equipment on certain ocean-going vessels. Although the occasional maritime disaster did occur, most wireless traffic consisted of personal messages from passengers, which were paid for and handled in much the same way that a telegram would be. Following the Titanic tragedy, the regulations were strengthened and the act was extended to include nearly all vessels sailing the oceans and Great Lakes.

wireless across the sea
The first wireless transmission between America and England took place in 1901. By the 1910s, an entire network of shore stations had been established to communicate with foreign lands and ships at sea.


1910 Radio Act
Marconi Apparatus On Board The Titanic
Amateur Stations In 1910
History Of RCA
Titanic Radio Shack
Titanic Wireless Operators



-----

wireless buffs
As early as 1905, amateur listeners could buy and assemble "wireless telegraph kits." In 1906, after it was discovered that radio waves could be detected by touching a mineral crystal with a wire, science magazines published instructions for building crystal sets. Listening was done with headphones, and the Morse code messages were hastily jotted down with paper and pencil.

wireless on land
In the 1910s, other industries discovered the usefulness of wireless. Hotels, department stores, railroads and shipping businesses all installed wireless equipment.

Land stations provided farmers, newspapers and wireless buffs with weather reports, hog prices, headlines and baseball scores. In the 1910s, there were hundreds of commercial wireless stations and thousands of amateur stations in the United States.

In 1910, there were already so many amateur stations that the issue of radio interference was becoming a real problem. There were no regulations to govern the number of stations, their wavelengths or the manufacture of selective tuning equipment.

radio licensing
The Radio Act Of 1912 was enacted by the Department of Commerce. This law required that all wireless stations be licensed. It developed eight licensing categories and devised a system of assigning call-letters. Land stations operating as a business received limited commercial licenses, while most other stations fell into the experimental or amateur categories.

during & after the war
When America entered World War I in 1917, the government suspended all amateur radio licenses and placed the commercial Marconi land stations under government control. On the battlefield, Morse code wireless was used for radio beacons and field communications.



After the war, the wireless land stations were returned to civilian control. At this point, the future of communication seemed to favor wireless telegraphy over all other methods. The Navy realized that our country needed a national radio system, and they asked General Electric to take the lead in creating it. In response, G.E. and several other companies purchased the Marconi Company and formed the Radio Corporation Of America (RCA). For the time being, RCA continued the Marconi Company's Morse code work. Their goal was to make the underwater telegraph cables, and ultimately the entire telegraph system, obsolete.




audio broadcasting

voice stations


In 1900, scientists discovered that audio sounds could also be transmitted by the Marconi method. Later that year, the first human voice was transmitted a distance of one mile. The first audio transmission of any great distance was achieved in 1906 and the first transatlantic audio transmission occurred in 1915.

By the 1910s, several experimental audio stations (known as voice stations) were sending out unscheduled broadcasts of human speech, phonograph records, singers and violin players. (Visit my Entertainment page to learn about radio stations and programming!)




who was listening?
The first audiences for these broadcasts were wireless buffs and Marconi operators who were astonished to hear human speech and music coming through their headphones! There was a great deal of communication between the stations and their audiences. Listeners who built their own crystal sets were eager to help by being "listening posts" for experimental broadcasts. This was very exciting, especially for the many young boys who were becoming interested in radio at the time.




licensing
When the Radio Act Of 1912 required the licensing of all wireless stations, it included voice stations, too. All audio stations were placed in the amateur or experimental categories and were given the appropriate call-letters.

a visionary
Although David Sarnoff worked as a Morse code operator at the Marconi Company, he also saw a bright future for the audio branch of wireless. In 1916, he wrote to the general manager in an attempt to persuade them to expand their operations:

"I have in mind a plan of development which would make radio a 'household utility' in the same sense as the piano or phonograph. The receiver can be designed in the form of a simple 'Radio Music Box'....[listeners] could enjoy concerts, lectures, music, recitals, etc., which may be going on in the nearest city within their radius."

Marconi management put his suggestion aside for later consideration.

during & after the war
When America entered World War I in 1917, the government suspended all amateur radio licenses and shut down the audio stations. On the battlefield, audio technology was used by the Army Signal Corps and was installed in airplanes for ground-to-plane voice transmission.

In 1919, the wartime ban was lifted and experimental stations resumed broadcasting. Westinghouse engineer Frank Conrad reopened his home-based voice station 8XK, and his twice-weekly broadcasts became very popular in the Pittsburgh area. This gave Westinghouse the idea to start a commercial audio station of their own, which they would do in 1920.


David Sarnoff's "Radio Music Box" Memo