At Work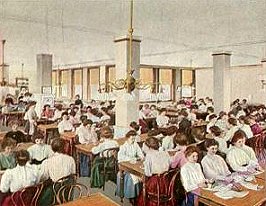 Employee lunch room at the
Metropolitan Life Insurance Company, 1910


working hours
In the 1800s, most workers were on the job six days a week, 12 hours a day. After the turn of the century, the 10-hour day began to replace the 12-hour day. In the 1910s, workers set their sights on an 8-hour day. Some employers were also making Saturday a half-day.

By 1917, there were laws in 39 states limiting the length of the workday. Despite all this, the 12-hour day was still a reality for 40 percent of the work force.

benefits & retirement
In 1912, Maryland passed the first workman's compensation law. In this system, employers and employees contributed to a fund that provided insurance against job injuries. Retirement was becoming a viable option for more workers, as their financial situations improved and they learned to plan for the future. Because of this, the number of working men over age 65 decreased 9 percent between 1870 and 1920.

In the 1910s, workers also campaigned for overtime pay and time off on legal holidays. A majority of employers were already granting their workers paid time off each year. Quite often, entire factories shut down for a week or two, and the employees all took their vacations at the same time.



-----
wages
child in textile mill.................$3.54/week
housekeeper..........................$5.00/week
girl in sweatshop...................$8.76/week
meat packer............................$9.50/week

Ford auto worker, 1913............$2.00/day
Ford auto worker, 1914............$5.00/day

After Henry Ford installed his assembly line in 1914, workers quit their boring and monotonous new jobs in droves. Ford instituted a $5.00 per day wage as an incentive for them to stay. This higher wage drove wages up all across the country.

average salary, 1912................$592/year
average salary, 1914................$627/year
average salary, 1916................$708/year


child labor
In the 1800s, some states tried to outlaw child labor, but were unsuccessful. In the 1900s, the progressive movement tackled the issue, and by 1914 every state had some form of child labor law. While these laws didn't eliminate child labor, they did put restrictions on it. In addition to needing a valid work permit, most kids had to reach a certain age or attain a certain level of education before they could work.