Metro Pictures
"It isn't the star and it isn't the play - it is the name [Metro Pictures] that guarantees you a fine evening's entertainment." (1916 newspaper ad)

Celebrated Players Film Company

Louis B. Mayer Productions

Keystone Film Company
Mack Sennett formed this company in 1912 after leaving Biograph. His most famous stars were Mabel Normand, "Fatty" Arbuckle, the Keystone Kops and the Sennett Bathing Beauties. Charlie Chaplin made his first American films here in 1914.

Triangle/Griffith Fine Arts/Goldwyn
Triangle Studios was formed in 1915 by D.W. Griffith, Tom Ince and Mack Sennett. It was known as Triangle Fine Arts and Griffith Fine Arts before being purchased by Samuel Goldwyn in 1919 and becoming the Sam Goldwyn Studio.

Mutual Film Company
This studio was formed in 1912 and shut down in 1919. After working at Keystone and Essanay, Charlie Chaplin made films here between 1916 and 1918.

Biograph Company
This studio was formed in New York City in 1895 and opened a California branch in 1910. In 1909, Florence Lawrence became a household name as the Biograph Girl. Between 1908 and 1912, many filmmakers launched their careers here, including directors D.W. Griffith and Mack Sennett, and actors Mary Pickford, Mabel Normand and the Gish sisters.

Edison
Thomas Edison's company made commercial films for release to the public between 1893 and 1918. They were shown exclusively in Kinetoscope peep-show machines until 1896, when his Vitascope projecting system made its debut.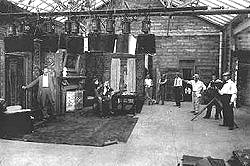 American Vitagraph Company
This studio originated in New York in 1897 and expanded to California in 1911. Vitagraph films during this decade featured Mary Pickford, Lillian and Dorothy Gish, Adolphe Menjou, Norma Talmadge, Douglas Fairbanks, Lionel Barrymore, John Bunny, Larry Semon and Oliver Hardy.

United Artists
In 1919, D.W. Griffith, Mary Pickford, Charlie Chaplin and Douglas Fairbanks formed this company, which distributed films made by independent producers. The company itself didn't own a studio, so producers used the Pickford-Fairbanks Studio.

Pickford-Fairbanks Studio
In 1918, Mary Pickford and Douglas Fairbanks purchased the old Hampton Studios. It was renamed the Pickford-Fairbanks Studio and was used by producers who came to make movies for United Artists.

Essanay
This company was formed in Chicago in 1907 and operated several studios in California in the 1910s. Charlie Chaplin moved here from Keystone in 1915. Essanay also employed Ben Turpin, Gloria Swanson and Francis X. Bushman.

Lubin
Lubin Studios was formed in 1897 and was based in Philadelphia and Florida. Oliver Hardy did his first film work here between 1913 and 1915. The company ceased operations in 1916.



-----
Selig
Selig studios were located in New Orleans, Chicago and California. Movie cowboy and former rodeo star Tom Mix made over 100 films here between 1910 and 1917. The studio folded in 1918.

IMP/Universal Films
Carl Laemmle started the Independent Motion Picture Company (IMP) in 1909. Both Florence Lawrence and Mary Pickford worked here briefly during 1910 and 1911. In 1912, IMP merged with four other studios to become Universal Films. A former chicken farm near Los Angeles became Universal City in 1915.

Kalem
This studio was founded in 1907 and had locations in California and Florida. Between 1916 and 1918, they gradually halted operations and sold off their studio properties. The remaining Kalem assets were purchased by Vitagraph in 1919.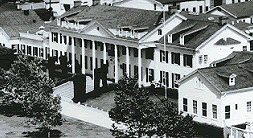 Ince
Tom Ince had been a director at IMP and part-owner of Triangle Studios. He built his own studio in 1918.

Pathe
This French company established studios in London in 1902 and New York in 1904. During the 1910s, they were best known for distributing the "Perils Of Pauline" serial and the "Pathe Weekly" newsreels.

Fox
William Fox worked as an arcade owner and film distributor before beginning his studio in 1915. During this decade, his most famous stars were Theda Bara and Tom Mix.

First National
This studio was founded in 1917 by a group of film exhibitors who wanted to have control over the films they showed in their theaters. After moving from studio to studio, Charlie Chaplin finally settled here in 1918, where he built the Charlie Chaplin Studio. Mary Pickford also worked here briefly in 1918.




Famous Players In Famous Plays
Adolph Zukor formed this company in 1912. His films starred well-known stage actors and were some of the first feature-length movies to be made. Mary Pickford worked here between 1913 and 1916.

Lasky Feature Play Company
This company was formed in 1913 by Jesse Lasky, Samuel Goldwyn and Cecil B. DeMille. Film adaptations of Broadway hits were made in a studio that was converted from an old barn, complete with empty horse stalls for dressing rooms. DeMille also directed films here.

Famous Players/Lasky
In 1916, Zukor's Famous Players and Lasky's Feature Play Company merged to become Famous Players/Lasky. When Mary Pickford negotiated her new contract here in 1916, Artcraft Pictures was formed to distribute her films. The other Famous Players films were distributed by Paramount Film Distribution. Pickford left in 1918, and Paramount and Artcraft were purchased by the studio and became subsidiaries.