newsreels
Actuality films captured real-life events on film. Twice a week, newsworthy tidbits were packaged into newsreels for release in theaters. The first newsreels were shown in Paris in 1909. In 1911, the Pathe Weekly was the first newsreel shown in the United States. At this early date, movie cameras rarely caught a breaking news story when it was happening, so much of the footage was recreated especially for the newsreel cameras.


*Selig-Tribune News Pictorial
*Vitagraph Monthly Of Current Events
*Hearst-Selig News Pictorial
*Pathe Weekly
*Hearst-Vitagraph Weekly News Feature





film speed
There was no standard silent film speed. The best speed at which to show a silent movie is the speed at which it was filmed. In the silent era, movie cameras were hand-cranked, and the speed of filming varied from movie to movie, sometimes even from scene to scene! Films arrived at the theater with cue sheets specifying the speed at which the projectionist should show it.



film length
Before 1910, movie makers assumed that audiences wouldn't sit still for any film that lasted longer than one reel (approximately 12 minutes). In 1910 and 1911, the multi-reel movie was born when a handful of longer films were released that could be shown either in one sitting or broken into installments. The first feature-length films that were designed to be shown in their entirety were released in 1912. The success of these films proved that movie-goers had no problem watching movies that lasted two hours or more.



a trip to the picture show
At most theaters, the show consisted of the main feature and one or two lesser reels. The lineup was usually different each day. Newspaper advertisements listed the schedule for the week, including the feature ("a 2-part Vitagraph drama"), the extra reels ("an Edison comedy and another good reel") and any other attractions ("a Burton Travelogue").

Admission generally ranged from 5 to 15 cents, although larger theaters showing epic blockbusters could charge as much as 25 cents. Afternoon matinees were the cheapest; evening shows and longer films cost more.

Audiences were extremely vocal in response to the action unfolding on the screen. They often entered the theater long after the movie had started, and stayed until the next showing reached the point at which they came in. Between reels, various slides were projected onto the screen. Some featured advertisements for local businesses, while others were strictly informational ("please remove your hats"). While reels were being changed, the pianist took the opportunity to lead everyone in a sing-along.



-----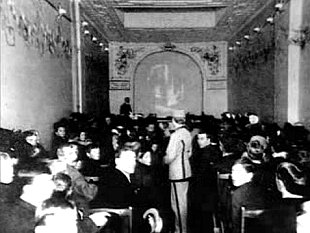 extra features
In the beginning, most movies were shown in vaudeville houses, where they were part of a longer variety bill. This practice was still alive and well in the 1910s. Rarely was a film shown alone. In larger theaters they shared time with singers, musicians and variety acts. Nickelodeons and smaller theaters featured sing-along slides, newsreels, travelogues and slide lectures.


Illustrated Song Slides
Silent Films: What Was The Right Speed?



as good as it gets
Movie-going audiences didn't consider themselves deprived because their movies lacked soundtracks. Quite the contrary....movies were perfect just the way they were.

They had good stories, beautiful leading ladies and handsome heroes. They had musical accompaniment, sound effects, and sometimes even spoken dialogue and color. They were easy to make, because movie crews could travel and film anywhere. All they needed was a movie camera and enough light to film by. There was no language barrier. Everyone could enjoy them, even recent immigrants who didn't speak English.