dinners, socials & card parties


People loved to get together for dinner parties, birthday parties and anniversaries. Tea parties and oyster suppers were great fun for everyone. In addition to this, most clubs found excuses to hold socials on a regular basis.

Almost every gathering included card games and prizes. This made the card party the most popular type of social in the 1910s.

pleasant diversions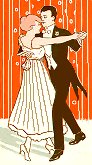 piano sing-alongs
games & brain teasers
skits
pantomimes
card games
recitations & vocal solos
orchestra music for dancing
selections from the gramophone
a box social fundraiser

for the upper classes
caviar
champagne
a nine-course meal
cigars
brandy
expensive party favors


*A box social or basket social was a great way to raise money for a worthy cause. Each young lady prepared a tasty lunch, which was packed in a pretty basket and put up for auction. In addition to winning the lunch, the gentleman with the highest bid also won the company of the lady who prepared it. Her identity was supposed to be a secret until the bidding was over, but usually the bidder received "advance information" from his sweetheart.

*In a frappe, flavorings are poured over ice cream, sherbet or cracked ice. Sometimes the ingredients are blended into a cool, refreshing slushy mix. Common flavorings include fruit juices, soda, wines and liqueurs.

*All manner of frozen desserts fell into the category of ices....custards, sorbets, mousses, cream ices and flavored ice water.



-----
The best socials had decorations, refreshments and games united by a theme. Here are some theme socials that were held in my town:

Colonial Party: to celebrate George Washington's birthday. Red, white and blue streamers, candlelight, New England dishes, placecards in the shape of small hatchets decorated with cherries.



Dutch Luncheon: red and blue streamers, brightly-colored paper flowers, wooden shoes, stenciled Dutch figures, Dutch foods, hostess and helpers dressed like the "Dutch cleanser" girl.

Jitney Social: a jitney was a cross between a taxicab and a shuttle bus. Guests played auto games, matched autos to determine lunch partners, ate lunch on the lawn and took the jitney back home.

Hobo Convention: also known as a "hard times party," the guests dressed as tramps and the games and decorations had a "tramp" theme.






delicious treats
a dainty supper
frappe & wafers
lemonade
cool, refreshing ices




Click here to see more socials and parties!